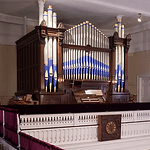 Dara Blackstone Hayashi
Musical Director
Dara Blackstone brings equally amazing talents to our intentional church community in the area of music. Dara is a writer, composer, teacher and director of music events in Stonington and worldwide. Dara brings an internaltional flair to our music and spreads that spirit of unity to all who hear the music she directs - be it in church, in local venues like Salt Marsh Opera or international events.
One would consider themselves blessed to have the opportunity to hear Scot play our spectacular organ. Scot has been at our church for over 2 decades, and his expertise in historic organs, classical music, and the art of playing organs is a foundation of our worship. Scot is a prominent member of the Organ Historical Society and is in his own right an expert with Pipe Organ building - New, Restorations, Preservation, and Maintenance.
As of July 2021...
We are currently employing Supply Pastors. We will be seeking our next Pastor to fill the role of Long-term Supply or Interim Pastor. Please consider worshiping with us on Sundays at 10:30 am to enjoy the blessings each of these unique Pastors and Lay people bring to our pulpit!